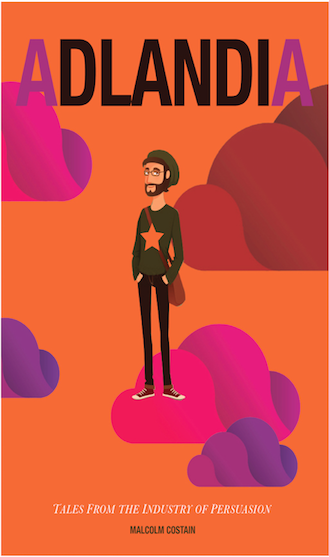 Tales of ambition, passion and regret from the industry of persuasion.
Welcome to 'ADLANDIA,' a surreal world where talented, idealistic people, crash head-on into the harsh realities of the advertising business. Some succeed; others fail horribly. Yet, amazingly, no one wants to escape. The result is an irresistible collection of stories that are hilarious, bizarre and wickedly comical.
Here are just a few of the situations you'll encounter in ADLANDIA.
A love story between the images of models in two billboard posters facing each other across a busy street. She's a self-obsessed lingerie model; he's a drunk driver who killed a family of four. Only the strangeness of their existences could bring them together
An account director mistakenly sends a client an abusive email that turns her world upside down. In a race against time, she must save the situation before the ruination of her career and the careers of thousands of her colleagues
A stressed designer suddenly begins hearing a sinister voice in one of her designs. When the voice starts doing 'favours' to help her career, the designer finds herself in a dangerous liaison with forces she can neither understand nor control
A copywriter suddenly finds her creativity deserts him on the eve of a do-or-die meeting. In desperation he deploys a 'karma tactic' in a bid to coax the mysterious forces of the universe to help him. When the forces respond, his career takes a turn he could never imagine
A struggling copywriter from the year 2159 travels in time to the Mad Men of 1959 in order to impress a potential employer. But his reckless actions have consequences for himself and the future.They could only happen in the curious otherworld of ADLANDIA
Here's what some of the reviewers are saying:
"An absolute blast."
"Exceptionally hard to put down."
"imaginative and insightful."
"Even if you have advertising you should read this book."
"A light hearted take on an advertising industry that takes itself too seriously."
"insightful tales from ad land with a twist."
Others have likened the stories  to those of Roald Dahl and Tales of The Unexpected.
TRAVEL TO ADLANDIA NOW. CLICK BELOW FOR YOUR COPY.
Click the links below to get your copy.
NOT SURE?
CHECK OUT AN EXTRACT FROM CHAPTER ONE
Here's a sample of the first story from ADLANDIA. If you've ever pressed 'SEND' and instantly regretted it, you'll recognise the pain and the shame of the situation that confronts ambitious account director, Leona Lee in NATURAL GRACE.
NATURAL GRACE
8:30AM
Office of Leona Lee
Senior Account Director
Calthorpe Advertising
40th Floor Calthorpe Tower
Downtown
Leona Lee, thirty-six years old and the acting account director on the Natural Grace Cosmetics account, sat frozen before the screen of her laptop. Her mouth was open and her hands were suspended above the square black tiles of the keyboard.
She had been locked in this position for almost thirty seconds, not even blinking, hardly even breathing, as motionless as a screenshot from a horror movie.
On her laptop, her email browser waited for her next command. The cursor blinked and the mouse pointed. The unread emails stood patiently in their ranks. What's it going to be, they seemed to ask. Select email? Reply to email? Compose email? Delete email? We're waiting for you.
But there was only one command that Leona Lee wanted, the one command that could undo the catastrophic mistake she had just made: the command to recall an email.
'Shit,' said Leona. 'Shit, shit, shit!'
The trouble was, Leona didn't know how to use the command. She wasn't even sure it existed. The recall email command was like an urban myth. Maybe it existed; maybe it didn't.
Leona brought her hands up to her face and held them there. 'What have I done?' she whispered. 'What have I done?'
Find out what happens to Leona and the rest of the people in ADLANDIA.
Download your copy here. 
To download ADLANDIA from AMAZON US, CLICK HERE. 
To download ADLANDIA from AMAZON UK, CLICK HERE.
To download ADLANDIA from AMAZON AUS CLICK HERE.