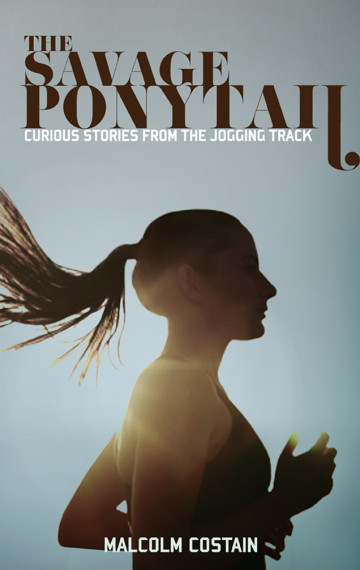 Purchase now at Amazon US
$US2.99 and £1.99
Available in:

Kindle and all major formats
Amazon.com
Amazon.co.uk
KOBO
You know who they are. You might even be one. 
Savage ponytails that jiggle and taunt. Slow plodders who won't let you pass. Gentle pooches that turn into hell hounds. Spitters and weirdos. Guys who run like they've soiled themselves.
Oh, and beautiful strangers who wink as they pass you by.
We've all seen them. Some of us might even be them. Anyone who jogs knows that anything can happen on an evening run.
Now you can read about them too.
Join one long-suffering jogger through nine hilarious tales, as he goes head-to-head with the running world's most bizarre, beguiling and exasperating people–and usually comes off second best.
It's guaranteed to cause a laugh if not a gasp of recognition from anyone who has ever laced up a pair of running shoes and gone forth into their local park.
But be warned. Don't read it before you run.
The Savage Ponytail is a running book with a difference. Based on author Malcolm Costain's innumerable runs in parks and tracks around the world, it offers short, fast-paced stories of dry humour that will not only cause a laugh but offer reassurance that you aren't the only runner who loves this sport but sometimes finds your fellow athletes strange, if not exasperating
The tales include:
The Savage Ponytail

The Walker Who Walks Faster Than You Jog

The Intolerable Leapfrogger

The Possessed

The Impassable

The Inexplicable Expectorater

The Insufferable Kid

The Dog That Won't Bite But Does

The Dream Lover
Your evening run will never seem the same again. 
Here's what readers are saying.
"A terrific read that all joggers, runners, striders and waddlers will enjoy." – Alan Atchison, review on Amazon.
"This was an excellent look at our vulnerability when exercising, be it jogging or walking or spin class. – Bonny Reed Fry, review on Amazon.
"Very unique and decidedly quirky. Really good read!" – Diane Leong, review on Amazon
Click below for your copy.