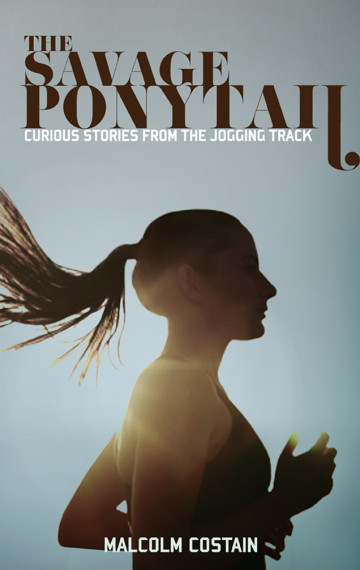 Purchase now at Amazon US
$US2.99 and £1.99
Available in:

Kindle and all major formats
Amazon.com
Amazon.co.uk
KOBO
"A terrific read that all joggers, runners, striders and waddlers will enjoy." – Alan Atchison, review on Amazon.
"This was an excellent look at our vulnerability when exercising, be it jogging or walking or spin class. – Bonny Reed Fry, review on Amazon.
"Very unique and decidedly quirky. Really good read!" – Diane Leong, review on Amazon
Attacked by dogs. Seduced by strangers. Savaged by ponytails.
Each afternoon, a jogger sets off for six laps of his local park, but these daily outings soon turn into infuriating encounters with the running world's most bizarre, exasperating and beguiling people.
The action begins with an encounter that would test the patience of a jogging saint: a face-to-face meeting with the taunting jiggles of the Savage Ponytail.
The encounters soon become stranger–and funnier. Our jogging hero finds himself in an exhausting duel with a runner who refuses to be overtaken; and facing off against a dog walker who is convinced that her snarling, sock-biting pet is actually a harmless pooch. (Spoiler: it's definitely not).
Finally, there is a face-off with the running world's most seductive and dangerous character: the Dream Lover, a beautiful jogging stranger who smiles suggestively when passing by, and might or might not be the love of your life.
The Savage Ponytail is a running book with a difference. Based on author Malcolm Costain's innumerable runs in parks and tracks around the world, it offers short, fast-paced stories of dry humour that will not only cause a laugh but offer reassurance that you aren't the only runner who loves this sport but sometimes finds your fellow athletes strange, if not exasperating
The tales include:
The Savage Ponytail

The Walker Who Walks Faster Than You Jog

The Intolerable Leapfrogger

The Possessed

The Impassable

The Inexplicable Expectorater

The Insufferable Kid

The Dog That Won't Bite But Does

The Dream Lover
Your evening run will never seem the same again. 
Click below for your copy.