ADLANDIA
MAD MEN.
DRIVEN WOMEN.
WHAT COULD GO WRONG?
In ADLANDIA, people dream big, work hard and crash heavily–all in pursuit of Ad Land's curious idea of success.
The result is an unputdownable collection of darkly comic contemporary fiction about the people who live and breathe the business of making ads.
Meet some of the cast of ADLANDIA's unforgettable characters and their desperate predicaments.
The Art Director Who Deals With The Devil
Sherilyn Faye is an overworked art director obsessed with the details of her designs. When a sinister voice speaks to her from one of her posters, she fears she is going insane. And after the voice begins 'doing favours' to help her career, she finds herself in a dangerous liaison with evil forces she can neither understand nor escape–until she reaches a point of no return.

The Copywriter Who Begged Karma To Restore His Creativity
Andrew Blazevic is a copywriter devastated by the sudden loss of his creativity. In desperation, he deploys a special 'karma tactic' in a bid to coax the mysterious powers of the universe into saving him. When the powers respond, his career seems to be back on track–or so he thinks.

The Email She Wishes She Had Never Sent
Leona Lee is an overly-ambitious executive with a hot temper. In a fit of rage, she accidentally sends an abusive email to her major client–or at least, she thinks she does. With the clock ticking, she must find out if the email was sent or not, before her career and the careers of thousands of her colleagues are destroyed.
Only in ADLANDIA.
Based on my fifteen years as a copywriter and creative director, "ADLANDIA"  offers an insider's view into the lives of people struggling to realise their dreams under pressure. You might think advertising people deserve all they get, but "ADLANDIA" will change your mind.
Here's what the reviewers are saying about ADLANDIA.
"An absolute blast of a read. Funny, fast-paced and exceptionally hard to put down." — Paul Chan
"Love Signs and The God In The Details and finally Springtime; are all must reads." — Amazon Reviewer
"Even if you HATE advertising you should read this book – it's refreshing and really well written." — Kerry Fitzgerald.
"Take Luke Sullivan's 'Hey Whipple, Squeeze this' and Roald Dahl's 'Tales of the Unexpected'. Will it blend? These imaginative and insightful short stories do just that." — Mat Owen
"Another gripping page turner." — RufRuf
"Adlandia meets the brief." — Jeff Bartholomeusz.
"These tales have way too much of a ring of truth to them. Loved the book – very funny." — AlexisInStKilda
Travel to ADLANDIA now. Tickets below.
---

THE SAVAGE PONYTAIL (Sports Humour)
It's one hapless jogger against the runnings world's most exasperating people. 
Each afternoon, a jogger sets off for six laps of his local park, but these daily outings soon turn into infuriating encounters with the running world's most bizarre, exasperating and beguiling people.
The action begins with an encounter that would test the patience of a jogging saint: a face-to-face meeting with the taunting jiggles of the Savage Ponytail.
Soon, the encounters become stranger–and funnier. Our jogging hero finds himself in an exhausting duel with a runner who refuses to be overtaken; and facing off against a dog walker who is convinced that her snarling pet is actually a harmless pooch. (Spoiler: it's not).
Finally, there is a face-off with the running world's most seductive and dangerous character: the Dream Lover, a beautiful jogging stranger who smiles suggestively when passing by, and might or might not be the love of your life.
The Savage Ponytail is a running book with a difference. Based on author Malcolm Costain's innumerable runs in parks and tracks around the world, it offers short, fast-paced stories of dry humour that will not only cause a laugh but offer reassurance that you aren't the only runner who loves this sport but sometimes finds your fellow athletes strange, if not exasperating.
Your evening run will never be the same again. 
Here's what the reviewers are saying about 'The Savage Ponytail.'
"A terrific read that all joggers, runners, striders and waddlers will enjoy."
"I'm pleased to know that I'm not the only one who has these conversations in my head!"
"Malcolm Costain has an excellent delivery and a sharp wit that keeps you laughing – at yourself."
"I read it in two sittings. It was hard to put it down."
"For anyone who jogs this is a must read, if nothing else it makes you more observant when you are out on the track."
"The simple act of jogging can give rise to such an incredible range of insecurities?"
Guaranteed to cause a laugh if not a gasp of recognition from anyone who has ever laced up their runnings shoes, pressed play on their iPod and gone forth into the leafy otherworld of their local park. 
Click below to let the exasperation begin–with the other runners, that is, not the book, which you are sure to love.
---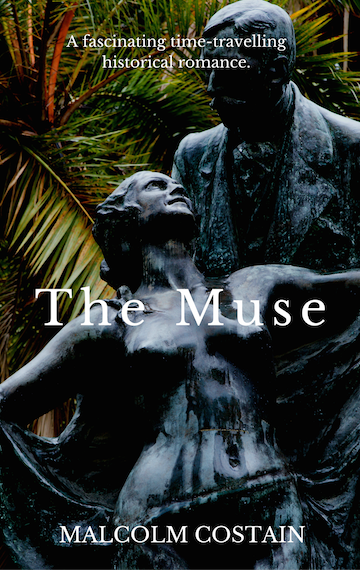 THE MUSE (A time travel historical romance)
An ambitious but heartbroken young woman embarks on a new job in a new country in an attempt to forge a new life.
But after falling unconscious after a diving accident, she wakes up in 16th Century London with its strange smells, customs, language and danger.
As she slowly comes to grips with this familiar, yet alien world, she is drawn toward the one person with the imagination to understand her predicament: an emerging playwright destined to be called a genius.
But time keeps playing tricks, thrusting the heroine back and forth between now and then. Can love overcome the tyranny of five centuries?
The Muse will be released in 2018.
Join the mailing list to receive advanced notice.